2022 Kickoff with your Host, Scott Mulvaney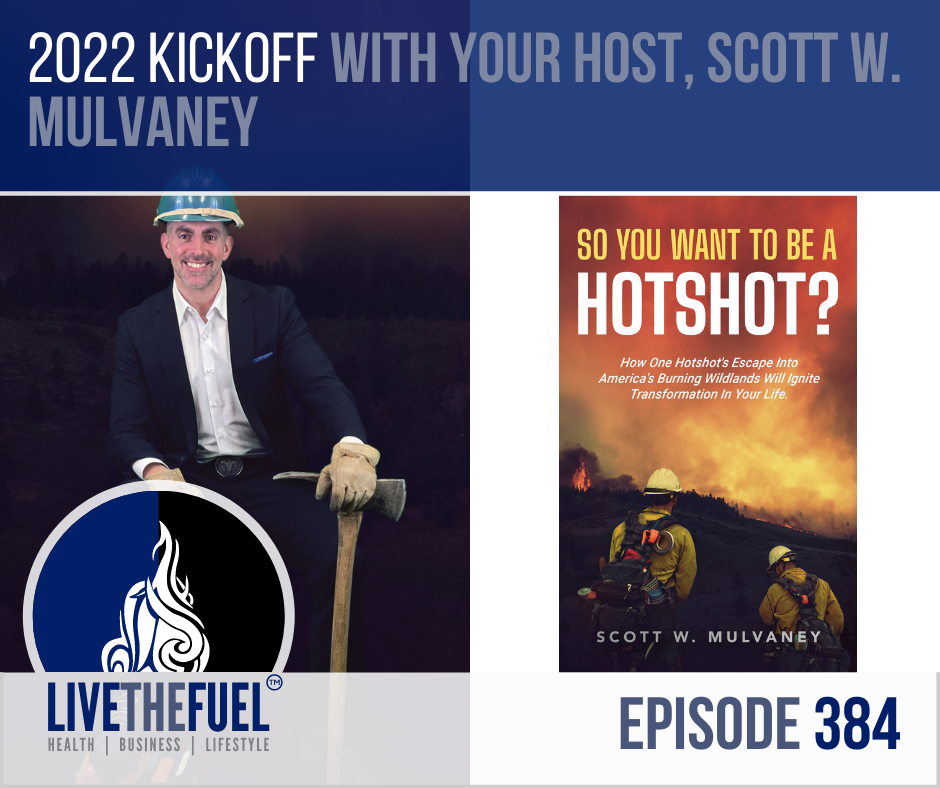 New Year Kickoff, No Less Work, and More New Beginnings for 2022:
Founder of the Lifestyle Brand and podcast LIVETHEFUEL, Scott W. Mulvaney escaped corporate life to serve as a USFS Hotshot Wildland Firefighter. Now a marketing entrepreneur, podcaster, and author; he channels his health nut, adrenaline junkie energy into everything he influences.
Quote: Live The Fired Up Epic Life #LIVETHEFUEL ~ Scott W. Mulvaney
He is FUELED by the values he learned from firefighting: Duty, Respect, Integrity and incorporates them into his fire-inspired brands LIVETHEFUEL and FUEL UP Marketing as well as his non-profit FUEL Foundations.
Today's Top 3 Takeaways:
Stop following the Negative News Networks to improve your mindset and your life.
It is okay to take a break for you, your family, and your future to find balance.
Put yourself first from time to time to ensure you can fuel the lives most close to you. That goes for your Health, Business, and Lifestyle goals!
Today's Resource Links:
The New Book is LIVE! Go get "So You Want To Be A Hotshot"! – 

https://amzn.to/3tnCIcT
Please don't forget a positive book review after your purchase too.
The Kindle and Paperback are up and the Audiobook book version for Audible is coming soon! – Vinnie Tortorich's Newest Documentary Film is LIVE too! Visit vinnietortorich.com/documentaries for more on BEYOND IMPOSSIBLE and his other films!
Our Mentioned Influencers:
Watch us on YouTube:
Timestamped Show Notes:
00:30 – Introduction
04:00 – So You Want To Be A Hotshot went live a few months back on Amazon. We originally were going to self-publish on Amazon but shout out to Hilary Jastram, my girl, she's been on the show many many times. She's a powerful guru and amazing book editor!
08:00 – My client Vinnie Tortorich, quick shout out to Vinnie, founder of the NSNG Lifestyle that I live by no sugar, no grains. He's also just published his third documentary film, which I do social media marketing for. He's now a client, not just a friend, not just a fellow podcaster but check out BEYOND IMPOSSIBLE that just aired yesterday, January 11 2022. As of recording this, alot has been happening, that's kind of a hint of this episode. A lot is going on with the new book, a new home, resuming the podcast, taking a break for my clients growing their things, helping them launch movies, helping them launch new vitamins, coffees, and other companies.
15:20 – There are so many tangents I could go off on. But the main theme that I wanted to hit tonight, quickly on the show, so I can get it out, is I haven't slowed down. I hope a lot of you haven't either.
28:00 – Final Words Shown Below…
Our Final Words of the Show:
I still got to put up or shut up. So that being said, thanks for catching me in 2022. As I said earlier, so I wish nothing but health and prosperity for each and every one of you out there and to my fuel world, my field nation. Please bear with me as I resume the show. I look forward to talking to you all again soon. And again, put yourself first so you can give back to everyone you care about and the future people you will be helping and caring about in years to come. Thanks everyone. Have a great night. I'll talk to you guys again soon.
Positive Actions:
Please support my charitable book launch of "So You Want To Be A Hotshot!"
Help us reach more listeners with a 5-Star Review on iTunes and Submit a Review
Please consider supporting our 501c-3 non-profit and visit http://fuelfoundations.org
Join our private Facebook community The FUEL UP Mindset
Need brand growth?! Visit us at FuelUpMarketing.com