170: Toxins Not Calories, Go Cleanse, and TDOS with Peter Greenlaw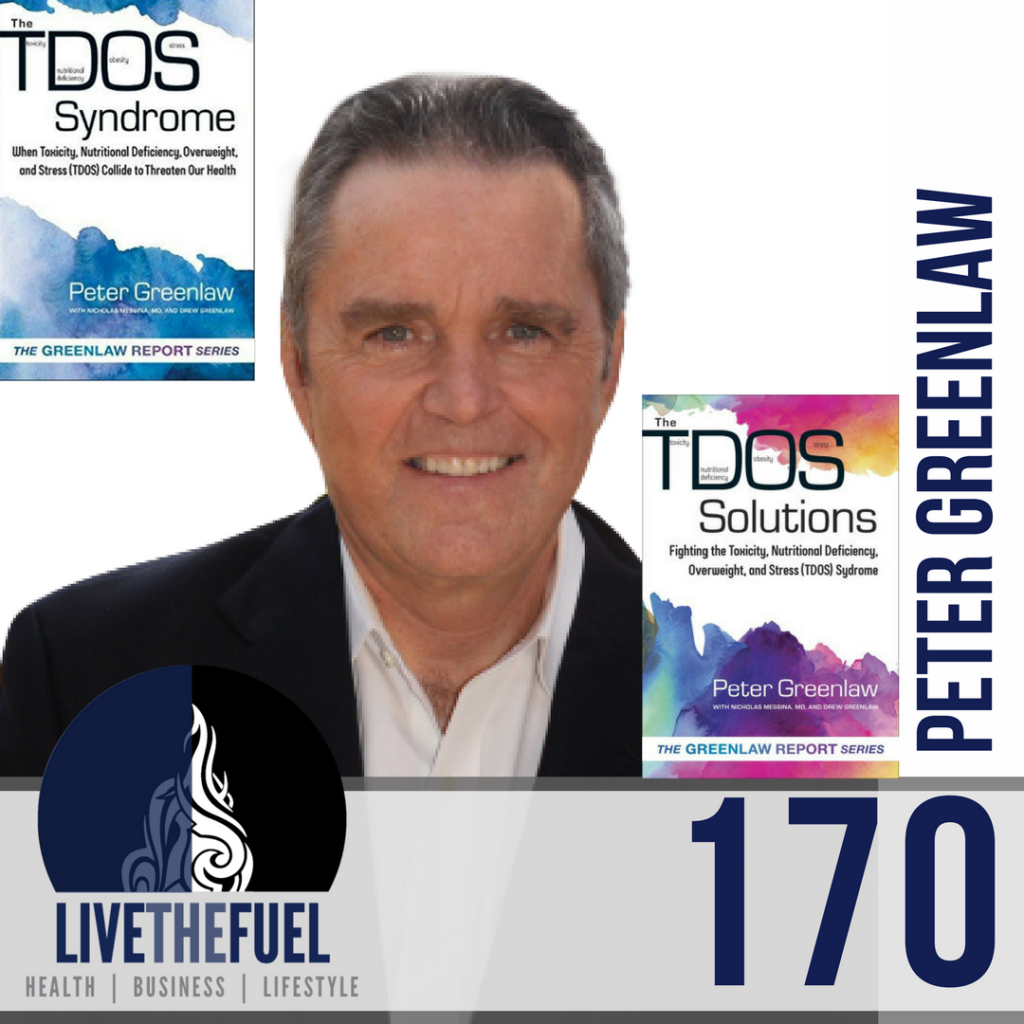 Peter Greenlaw Author of TDOS and Creator of The Greenlaw Report Talking about Toxins and More:
It's time to learn about Toxins and so much more from an expert on the experts! Peter Greenlaw discovered his mission in life 15 years ago. As history has shown us, sometimes the most profound, life-changing events come during times of turmoil. After a routine checkup, Peter learned his health was far from perfect and some drastic changes were needed if he wanted to be around to meet his grandkids. of some immediate changes or the future, he had once pictured was in danger of crumbling away. That was all he needed to hear; Peter decided to take his health back into his own hands. He started doing some of his own research, he began looking outside the box of traditional medicine, dieting, and exercise for any new practices that had possibly not hit the health and wellness radar for the masses. With the approval of his doctor, Peter began experimenting with different health, dietary and fitness protocols. During this entire period, Peter continued to collect massive amounts of information while experimenting with different nutritional technologies, exercise programs, etc.
After several months from his initial health scare, Peter returned to his doctor for his first real follow-up. Not only did Peter receive a clean bill of health, the doctor was shocked at how fast and effectively his body had bounced back in such a short timeframe. Peter would most likely tell you that was one of the main events that pushed him to keep researching and digging for answers. Knowing that if he could just help one person who was struggling like he was, it would all be worth it. Looking back, it would have been impossible to predict what the future held for Peter Greenlaw and the real impact he has had on countless numbers of people. He has no doubt helped change this world for the better through his passion to educate people on the truth regarding our health and the way the game has changed.
Along with his son, Drew and a small team of people, dedicated to sharing information on health and wellness, as well as re-educate people about what we are really up against, The Greenlaw Report is Peter's latest platform to share this information with the world.
Peter Greenlaw and The Greenlaw Report is the voice for what you are NOT hearing from cutting-edge health science research. Peter is considered one of the leading activists alerting the world about the toxicity and lack of nutrients in our food supply and offers solutions to help you live a healthier, longer life. Peter and Drew have written four books and Peter has delivered well over 1,500 lectures around the world and has appeared on countless television shows, sharing the information he has compiled in hopes of helping one person at a time. Peter has been recognized as one of the world's most prominent health investigative scientists and is often referred to as, "The Researcher of the Researchers". This has given Peter the freedom to seek out and find the most important data and research as well as the latest nutritional advancements and protocols from around the world. From there, we pick and choose only the best of the best information we feel we have found with you, the reader. Remember, nothing we post here is opinion. All our research and data is scientifically backed. If we find the best, it's not because we just think it is the best; it's the best because it has been proven in the field, the labs and petri dishes from around the world.
On This Episode You Will Hear:
[spp-tweet tweet="Aging is not a condition, it's a disease! @GreenlawReport "]
Watch On YouTube:
Links and Resources:
People Mentioned:
Final Words:
Peter's goal is to help as many people as we possibly can. He wants to change the world by making people aware of what is available. Peter knows that we are going to be able to do this on his television show project, The Greenlaw Report.
Action Steps: