107: Villa Cappelli Olive Oil & Eat Happy Sweepstakes!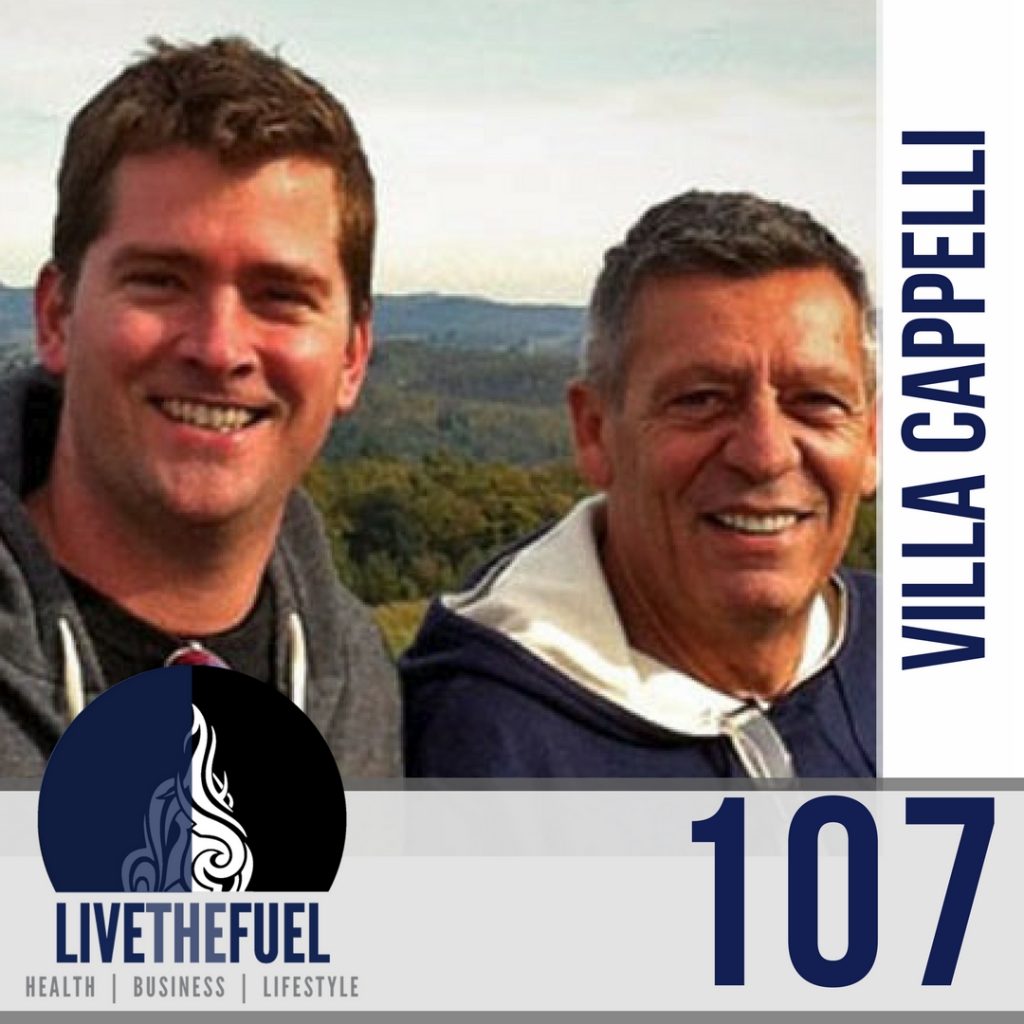 Welcome your purest Olive Oil Co-Hosts plus a Sweepstakes!:
It's time to learn about your world class olive oil experts and today's co-hosts of the LIVETHEFUEL Podcast! Let's also learn how to win the $700 Eat Happy Sweepstakes!
Hi, we're Paul Cappelli and Steven Crutchfield from Villa Cappelli. We've been sharing our love of all things Italian for over 10 years now, but we'll get to that later. It really comes down to living life to its fullest, which Italians do every day. We hope you can get a little taste of that with all our products.
With every drop of pure extra virgin olive oil, every spoonful of conserve or every pinch of spice, you'll be transported to the Italian countryside and enjoy life just a little bit more.
Rediscover the joy of cooking.
Realize that healthy food can be simple and delicious
Create amazingly simple, delicious dishes with just a few ingredients
Eat the way your grandparents used to — all natural and GMO-free
So we hope you pull a seat up to our table and give our products a try. You're sure to discover all the wonders with us.
On This Episode You Will Hear:
The BEST Extra Virgin Olive Oil on the Planet! – Vinnie Tortorich
[spp-tweet tweet="Enter the @EatHappyBook and @VillaCappelli #OliveOil $700 #Sweepstakes !! @LIVETHEFUEL "]
Links and Resources:
People Mentioned:
Final Words:
Paul Cappelli: We aren't living our dream. We are really living YOUR dream. Anybody can do this, you can enhance your lifestyle. I'm not a big user of the word change, I prefer the term "making things better". I think anyone can enhance their lifestyle, simplify it while living better both mentally and physically!
"One important thing… being successful at it: It doesn't hurt to live this lifestyle and share this lifestyle with other people and still do it as a business."
Steven Crutchfield: Paul had a great quote in reference to when he saw the vision to restore the villa and bring it back to life. Paul had a great quote when he first saw the villa… he wanted to "restore its soul, but in the process, it restored his". It's what we do with our renters, guests, and definitely with our products. Just take a step back and enjoy life, enjoy your food, that's what Italians do so well. We love spreading that message!
Action Steps:
Please Submit an iTunes Show Rating & Review, we need more reviews to increase our ranking and appearance. We love 5 Stars!
Join THE FUEL TANK our community on Facebook! – "You are the average of the five people you spend the most time with." ~ Quote by Jim Rohn
Be sure to check out our Resources and a reminder to "Keep Living The Fired Up Epic Life everyone!" #livethefuel