060: Meditation, Rugby, Healthy Lifestyle with UGG Founder Brian Smith
Listen to this episode
Take Action Today
Stay in touch!
Podcast: Play in new window | Download
UGG Founder, Speaker, Author Brian Smith Cohost:
Brian Smith UGG Founder talks from the heart and on a lot of stories from the UGG Boots era. He sold the company nearly 18 years ago and has since become a bestselling author and world-renowned speaker. He took advantage of the recession and wrote the book. The book launch success is what led him into the public speaking sector, now 3 years ago.
On This Episode You Will Hear:
[01:05] Welcoming Brian Smith UGG Founder.
[01:30] Connecting with mutually shared networking relationship, Rich Brocchini.
[03:02] Creating World Class Customer Service, critical for his early growth as well as years later. Brian's UGG customers saved him over and over again.
[03:30] Learning from his first mistake of thinking he'd become an instant millionaire by buying and importing 500 pairs of sheepskin boots. His first year of sales, as the UGG Founder, was only 18 pairs. Americans just didn't get sheepskin at the time.
[04:10] Writing his book The Birth of a Brand.
[04:40] The highs and the lows.
[05:04] Everybody is in a different stage in their business.
[05:20] The theme of my book is you can't give birth to adults. Most entrepreneurs want to give up in the infancy phase because they've given birth but they don't see the instant success. It's a lot of feeding and changing diapers.
[06:15] Going into the youth phase. You can grow a really sizeable business in this phase, like $20 million bucks! The teenage phase of business, you're at every party in town, it's a super dangerous phase. Brian almost lost control 2-3 times.
[07:10] What Brian likes talking about most on stage and what really keeps him coming back to the stage.
[07:47] My good question he's never been asked before.
[08:15] Brian is speaking to help, he's not in it for the money or the ego.
[08:22] When UGG got too big he had to sell it. Where Brian grew the most.
[09:14] He was embarrassed with the first couple of tradeshows he was in.
[09:45] Shark Tank, Entrepreneurship, supporting Gen X and the Millennials.
[10:25] Explaining why he had to sell UGG and why products based companies do this.
[11:50] Scrambling to get $5,000,000 worth of product together and then topping out at $15,000,000.
[12:30] Shark Tank, new investment model executed by Sharks like Daymond John. Investment bankers are scared by seasonal businesses.
[14:47] Very few Shark Tank deals actually get funded.
[15:40] Getting into Brian's Lifestyle.
[16:45] Brian was embarrassed going around with a bag of sheepskin boots to surf shops. He was also an accountant by trade so he was terrified by sales.
[20:00] The ones that will survive are the ones who go back out to the customer. Brian does coach a few clients. Using social media and your loyal customers for new business decisions.
[24:00] Taking your ethics seriously to provide the highest value you can. Going back to the roots and helping UGG celebrate their 40th anniversary.
[25:15] Comparing where Brian's stress levels are at these days compared to when he owned UGG.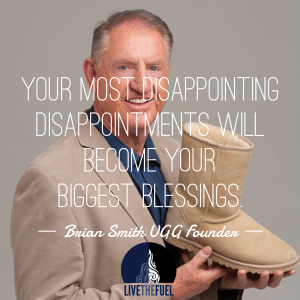 I've got Rugby in my blood. – Brian Smith UGG Founder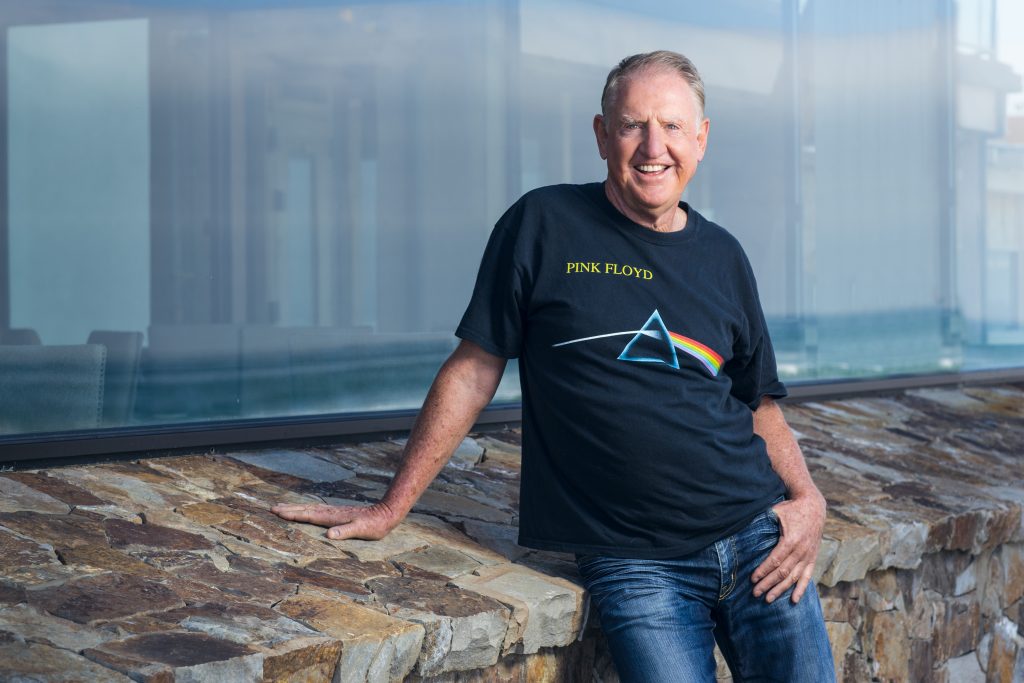 [49:30] Brian's spot on the matrix was Passion and Innovation. This all relates to the Catalyst for Change.
Passion + Innovation = Your Catalyst for Change – Brian Smith UGG Founder
[50:50] Discussing and embracing our FEARS when slammed against the wall vs a speed bump. Fear is debilitating and Brian has four statements that he picked up from a philosophical book over 25 years ago. They were so profound that he typed them out and put them in his daily planner. He's carried this page with him for 25 years now.
It doesn't matter what hits you in life… these four statements below are the most positive statements to battle the most horrific things, disappointment, etc.
Feast Upon Uncertainty
Fatten Upon Disappointment
Enthuse Over Apparent Defeat
Invigorate In The Presence of Difficulties
[52:40] Don't be a victim. Shed yourself of that protective bubble. Embrace your fears. Relish the experience.
[54:15] The 5 Second Rule by Mel Robbins. You need to make decisions with the 5-4-3-2-1 tool.
[1:00:25] Final Words
The quickest way for a tadpole to become a frog is to live everyday happy as a tadpole. – Brian Smith UGG Founder Deepest Philosophy
Links and Resources
People Mentioned
Final Words
The best bit of advice Brian ever got for success: Figure out what you can do best, better than anybody else, and you cannot help but be successful and make money.
Action Steps
Please Submit an iTunes Show Rating & Review, we need more reviews to increase our ranking and appearance. We love 5 Stars!
Join THE FUEL TANK our community on Facebook! – "You are the average of the five people you spend the most time with." ~ Quote by Jim Rohn
Be sure to check out our Resources and a reminder to "Keep Living The Fired Up Epic Life everyone!" #livethefuel